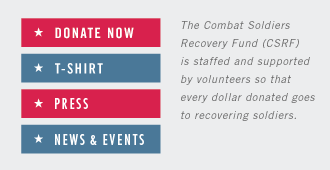 The Combat Soldiers Recovery Fund has 501(c)(3) status. Contributions are tax deductible and aid soldiers wounded in service of our nation.



We provide 100% of every donation directly to
wounded soldiers recovering
at military hospitals in the Washington,DC area. No overhead. No bureaucracy.



Contributions from individuals and corporations provide immediate funds for the everyday needs of soldiers
facing a long, hard recovery
far from home.